Each project and customer have specific needs to visualize and analyze data in a comfortable, intuitive and useful way. At PickData we have developed a new display format focused on tailored projects where instant data refresh and remote control are key features of the application. The SCADA synoptic has arrived to PickData EVO with multiple features detailed below.
Main features
Background image: Configure the desired background image to display a floor map, a machine schema or a photo from the device controlled.
Text: Add the desired text, choosing font size, font color, background color and position.
Service: Add any data to the monitoring screen link a periodic reading or a KPI / formula service to automatically refresh the value.
Actuator: Add a button to create a direct link to any of those destinations:

Actuator service: An actuator service that has been preconfigured to activate or deactivate a realy, change a setpoint of a climate control, etc…
Dashboard: Direct link to a dashboard of your project for detailed data analysis.
Widget: Display a graph or table from your project to access to the historical data of any service.
SCADA synoptic: Create links between different SCADA screens to navigate between them without needing the main menu.
URL: Link any external web including weather forecast, your corporate website, etc…

Link: Same features than Actuator but creating an invisible area where you can click.
And these features are just the beginning! Once you have configured your SCADA synoptic you will be able to refresh real-time data and actuate to any parameter to remotely control your facility.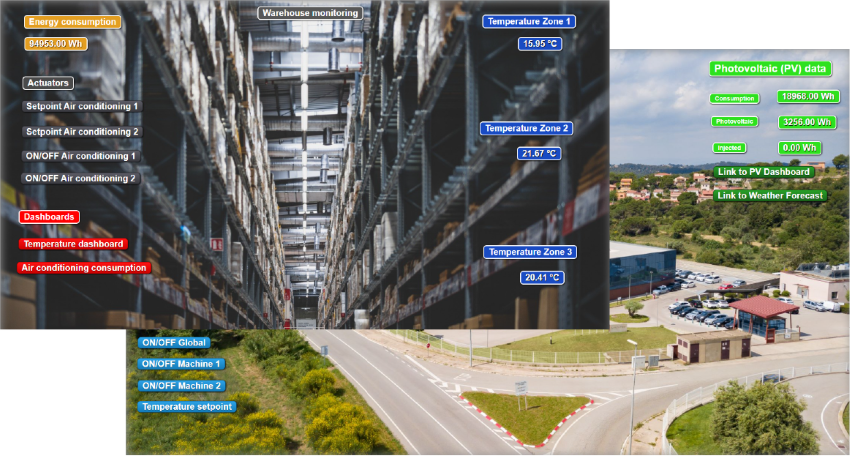 If you want to know more about EVO IoT Platform you can click here, or if you prefer it, you could contact our commercial department to receive personalized attention and a product quotation.
You can continue reading our publications in the News section .

Also, don't forget to follow our daily journey on PickData's official Twitter , Linkedin and other social networks.